The Klang und Realität Studio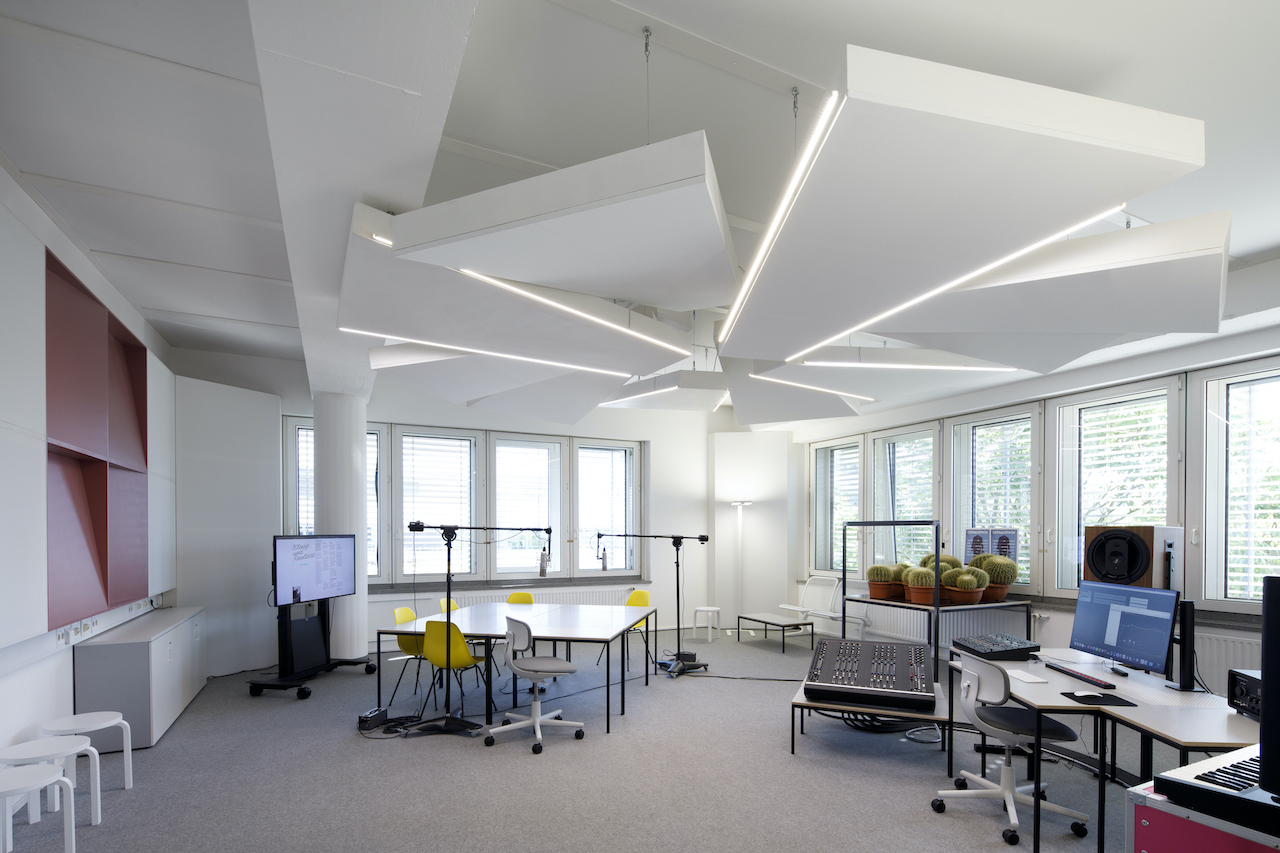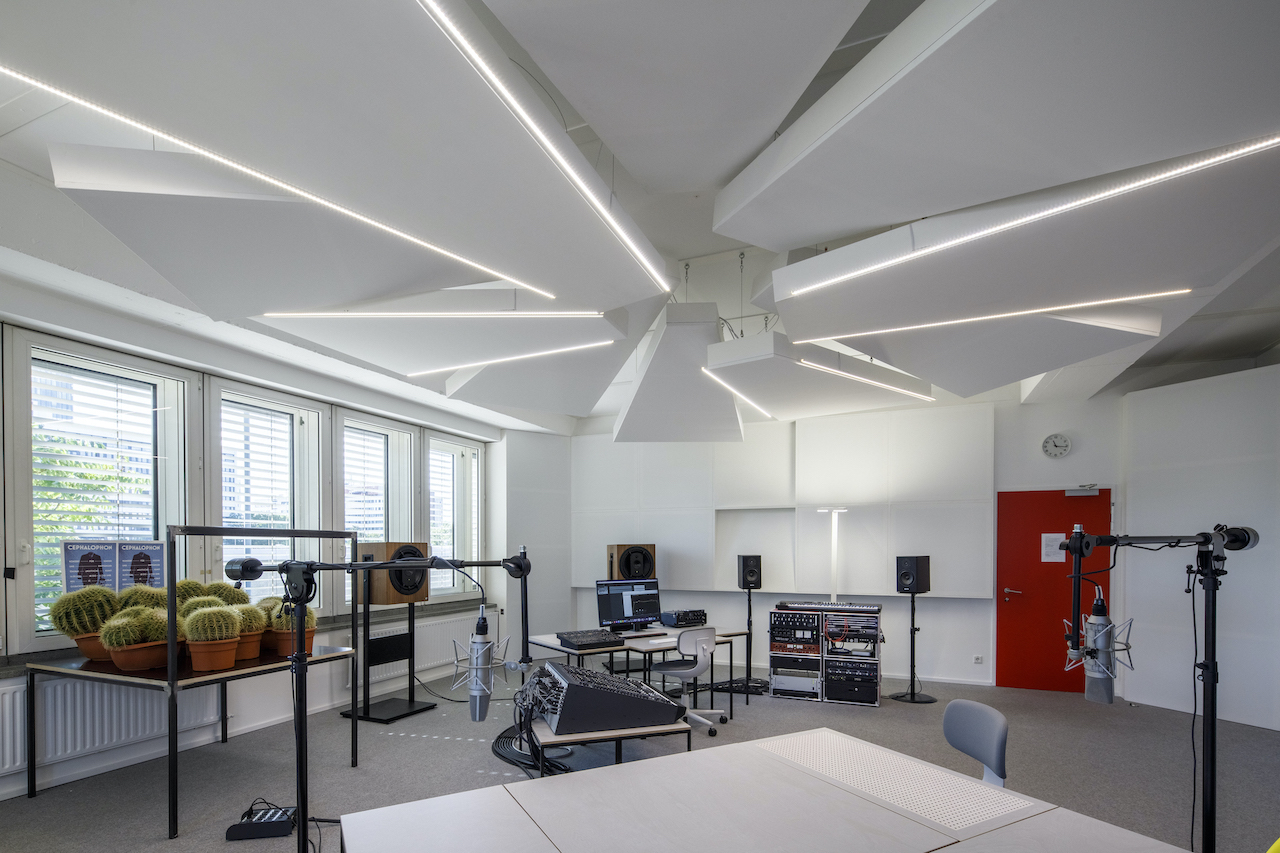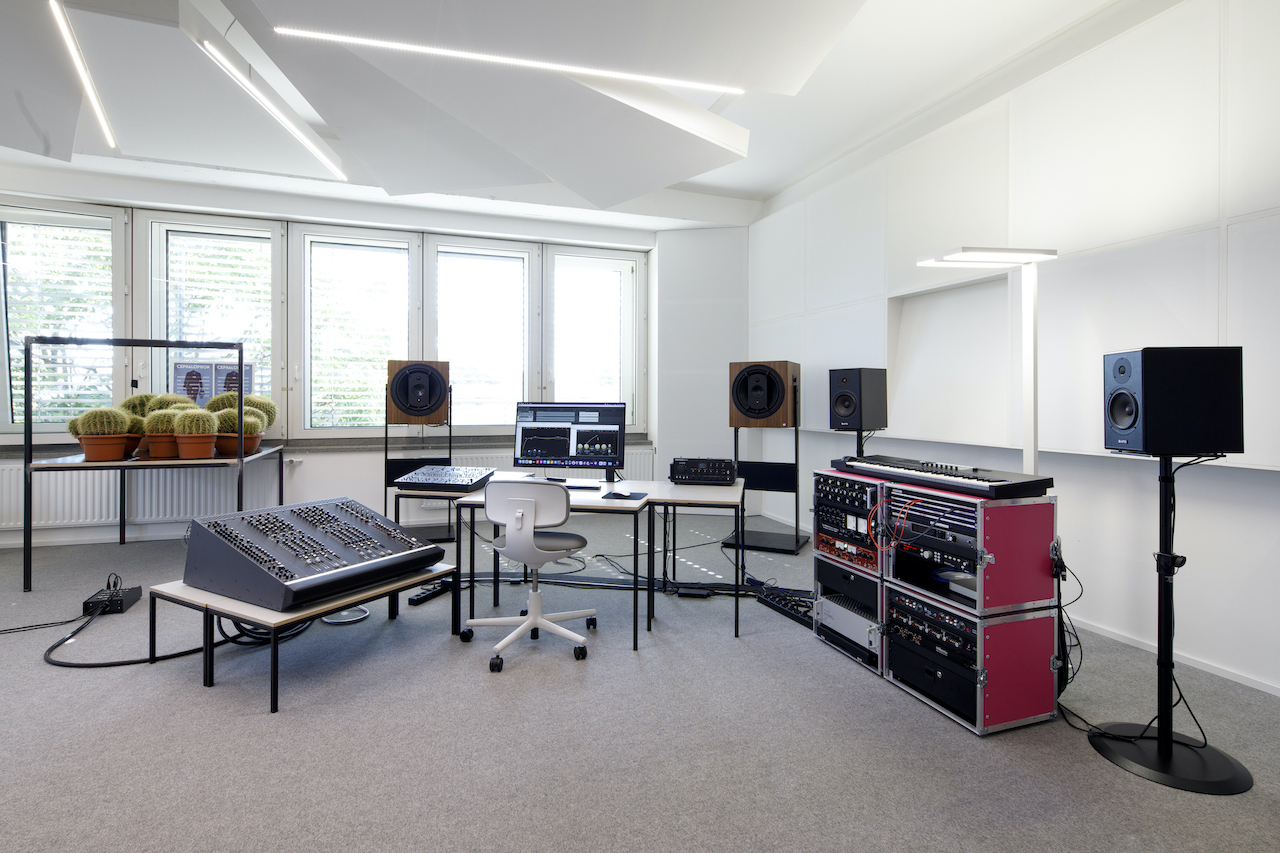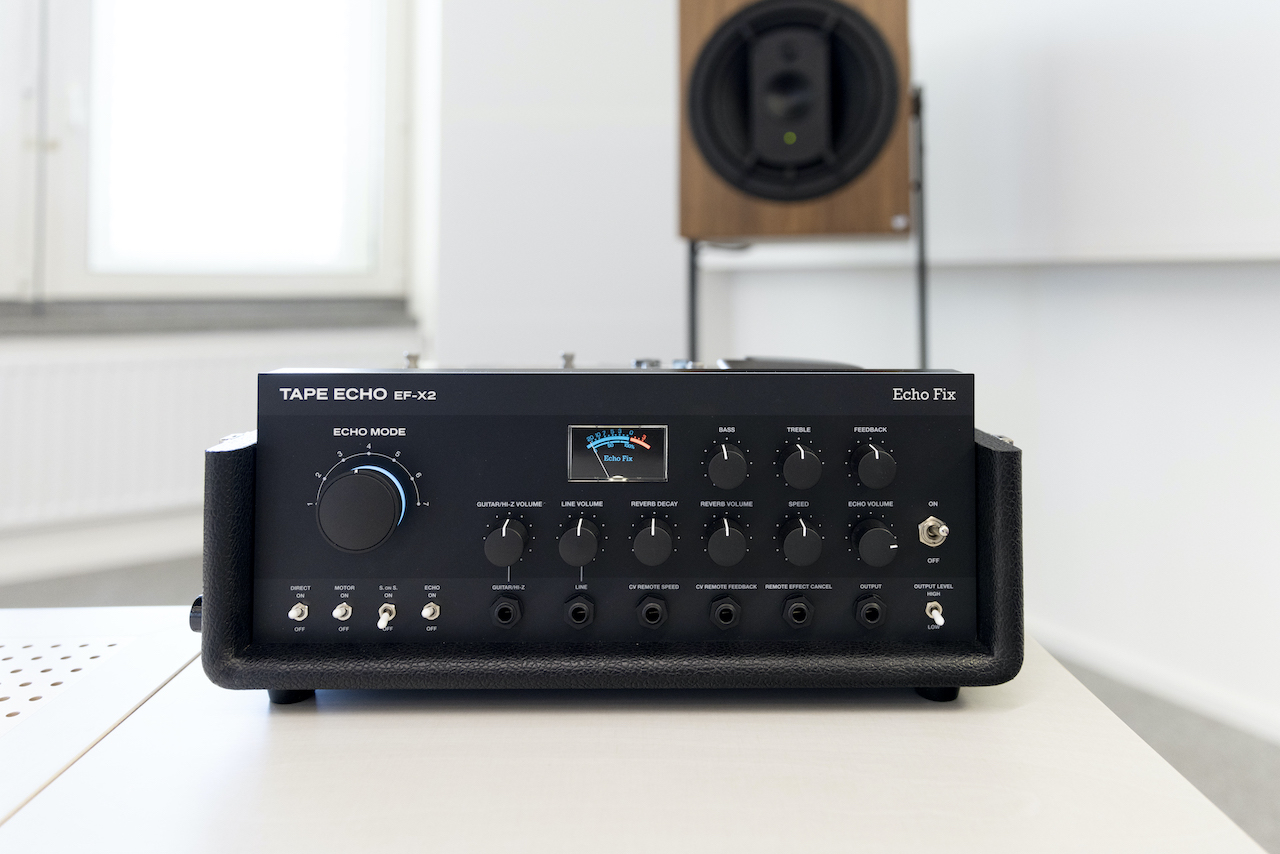 With its specialized, high-quality recording studio technology, the Klang und Realität Studio offers an acoustically optimized and at the same time inspiring workspace created for Klang und Realität master's degree candidates to carry out projects such as radio play productions and podcasts, contemporary experimental compositions, and mixes, all with leading edge equipment. In addition to the Transmedia Forms Studio, which is equipped with 16-channel monitors, the studio gives master's students the opportunity to also work high-quality stereo productions.
The studio is divided into two modular zones: a studio area in which most of the audio technology is located, and a flexibly configurable recording and group work area with acoustically optimized furniture. Both areas are connected by a ceiling architecture – a kind of iris – that also optimizes acoustic effects with a pivoting center-mounted ceiling lamp installed in the middle that pivots in three dimensions.
The heart of the studio is the analog AM1 from the renowned German mixing console specialist, Zähl. One of the many unique features of the analog mixer are the CV interfaces, which allow combined analog synthesizers. A pair of Geithein RL901 monitors is available as the main monitoring setup. In addition, there is a wide range of widely used high-quality outboard equipment and sound effect tools for individual sound design, as well as top-of-the-line microphones for audio recordings, which facilitate experimental work and professional finalizing and mastering of mixes.



EQUIPMENT

Playback
Geithain RL901
APS Klasic 2020
Audeze LCD-2

Mixer and Interface
Zähl AM1
UA Apollo x16

Microphones
2x Neumann U67
2x Shure SM7B

Outboard
Millennia HV 3c Preamp, Warm Audio WA-412 Preamp, Heritage Audio Elite Stereo 73X2 Preamp, Gyraf G XIV, Thermionic Culture Phoenix Comp, Thermionic Culture Culture Vulture Super 1, Bricasti M7, Eventide Eclipse, Earthquaker Devices Data Corrupter, Boss RC-505, Chase Bliss Audio Mood, Strymon Nightsky, Dreadbox Komorebi

Instruments
Haken Audio ContinuuMini, Behringer 2600 Semi-Modular Synthesizer

Planning and Support
Acoustics: Guido Apke
Concept: Prof. Julian Rohrhuber, Marcus Schmickler, Phillip Schulze, Prof. Dr. Heike Sperling
Light: Tristan Thönnissen
Furniture: Markus Mielke
Robert Schumann Hochschule Düsseldorf Fischerstraße 110, 40476 Düsseldorf
Fon: +49.211.49 18 -0 Fax: +49.211.49 11 6 18 www.rsh-duesseldorf.de