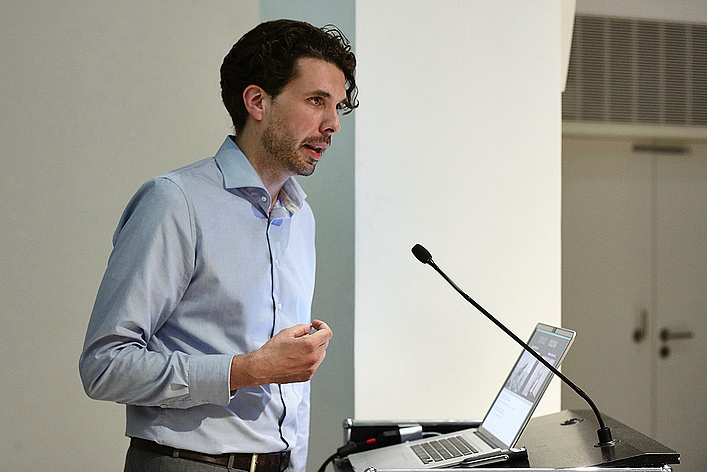 Phillip Schulze
Lecturer in Acoustic Art and Time and Media

philipp.schulze(at)rsh-duesseldorf.de
www.phillipschulze.com


Born in 1979, Phillip Schulze is a media artist and composer who works in the area of time and space related arts.
From 2000 to 2006 he studied media arts and scenography at the ZKM | Center for Art and Media Karlsruhe of the University of Arts with Anna Jermolaewa, Paul Modler, Siegfried Mauser, Michael Saup, and Penelope Werli. From 2006 to 2008 he completed a master's degree in composition at Wesleyan University in Connecticut with Anthony Braxton, Ron Kuivila, and Alvin Lucier.
After his studies, Schulze was a freelance artist in New York City before working as a media art research associate at the Interaction and Entertainment Research Center of the School of Art, Design & Media in 2008 and 2009. In 2010 Louis-Philippe Demers, Armin Purkrabek and Phillip Schulze received an honorable mention at the Ars Electronica for The Prayers Drum, an interactive AV architecture. For several years they were on tour globally with The Tiller Girls, a dance, light and sound performance with 32 autonomous dancing robots, live video, light and music.
Since 2006 Schulze has been giving lectures and workshops at various academic institutions such as the University of Alabama, Leeds University, and the Bauhaus Universität Weimar. From 2011 to 2012 Schulze was visiting professor and leader of the program of studies music informatics at the IMM of the Robert Schumann School of Music and Media Düsseldorf. Since 2012 Schulze has been teaching theoretical and practical seminars at Heinrich Heine University Düsseldorf in the Institute of Media and Cultural Studies. Together with architect Marie-Céline Schäfer, in 2016 he taught the seminar Sound Semester/Sound and Architecture at the Düsseldorf Arts Academy.
In 2011 Angela Fette and Phillip Schulze founded the artist duo Weisser Westen. In 2013 Schulze co-founded the artist group Beaster.
Schulze's own works oscillate among various forms of artistic expression. On the one hand he concentrates on compositions for classical musical instruments, algorithmic compositions, electro-acoustic music using synthesizers, and software instruments he creates himself. At the same time, many of his works reveal strong links to visual art, including light and video installations and multimedia performances.
Schulze's works have been performed and installed in Europe, Russia, Asia, Australia and North America at venues such as IRCAM (France), ZKM (Germany), Ludwig Forum Aachen (Germany), Kumho Museum of Art (Korea), Kunstpalast & Kunsthalle Düsseldorf (Germany), Japan Media Art Festival (Japan), Moers Festival (Germany), Diapason Gallery NYC (US), Herzeliya Museum (Israel), Winzavod Moscow (Russia), Elektra Montreal (Canada), Museum of Contemporary Art Antwerp (Belgium), V2 Rotterdam (Netherlands) and the Pori Art Museum (Finland).
Since 2017 he has been an assistant professor in acoustic art and mediated time forms in the master's program Klang und Realität offered by the institute of music and media of the Robert Schumann School of Music and Media Düsseldorf.
Robert Schumann Hochschule Düsseldorf Fischerstraße 110, 40476 Düsseldorf

Fon: +49.211.49 18 -0 www.rsh-duesseldorf.de