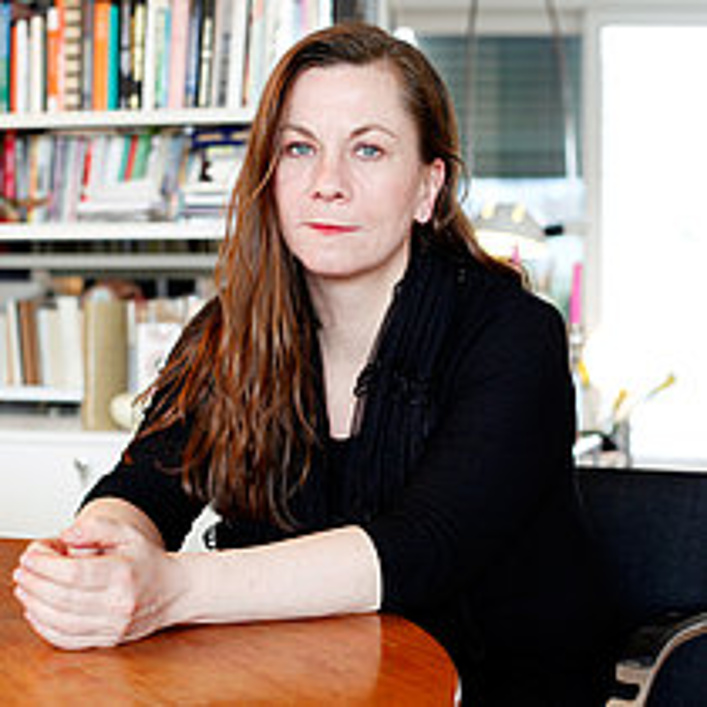 Prof. Dr. Heike Sperling
Professor for Transmedia Forms and Visual Music

heike.sperling(at)rsh-duesseldorf.de
heikesperling.de
Prof. Dr. Heike Sperling is a communications expert. Her domestic and international recognition includes awards from the Art Directors Club Germany, the Broadcast Designer Association International, the Cannes Lions International Festival, the Eyes and Ears of Europe Festival, and the New York Festivals. Currently she works as full professor, creative consultant, and mentor.

Born 1965, Sperling studied with noted artists Bazon Brock, Anna Oppermann and Ursula Wevers. She received a degree in Communication Design from the University of Wuppertal, Germany in 1990. Sperling's dissertation on Aesthetics was supervised by Bazon Brock, for which she received her PhD in 1999.

Dr. Sperling started her career at RTL Television, a German private broadcasting company, and the development and launch of the on-air corporate design of the German national TV channel VOX in 1993, remains one of her stand-out projects. She has worked as a freelance producer, director, and creative director in Germany and the US. Dr. Sperling also served two years as the Head of Design for the German public TV broadcaster WDR where she initiated and led the on-air redesign in close collaboration with British design legend Peter Saville.

In 1995 Sperling moved to San Francisco, and started to work as a freelance Art Director for HotWired, the first commercial web magazine. 2001 until 2007 she designed analog collages for the print publications of brand eins, a leading German business magazine. In 2002 she developed the on-air corporate design for the launch campaign of the new music TV-broadcaster VIVA PLUS in collaboration with Double Standard's Chris Rehberger.
Sperling also created music videos that focused on experimental and electronic music.

Sperling is the chair of the post-graduate Motion Design program at Filmakademie Baden-Württemberg, Germany's leading film school, since 1998. She has taught at NABA Nuova Accademia di Belle Arti Milano, Italy, the Academy of Art and Design in Basel, Switzerland, the University of Applied Sciences Salzburg, Austria and the University of the Arts (HFK) Bremen.
In 2004, Dr. Sperling was appointed by Düsseldorf's Robert Schumann Music Academy as professor for Digital Visual Media at their Institute For Music And Media (IMM). Today, she also serves as chair of the music academy's Master of Music program in Klang und Realität.
In 2005 Prof. Dr. Heike Sperling initiated the lecture series BASECAMP at the IMM. Professor Sperling curated the renowned monthly event for 12 years. She tours her own lectures on various European platforms, universities and conferences.

Since 2015 Dr. Sperling serves on the Advisory Council of the Center for Visual Music, Los Angeles. In 2022, she was elected to the board of ON – Neue Musik Köln e.V.
(Photo: © Lena Böhm)
Robert Schumann Hochschule Düsseldorf Fischerstraße 110, 40476 Düsseldorf

Fon: +49.211.49 18 -0 www.rsh-duesseldorf.de